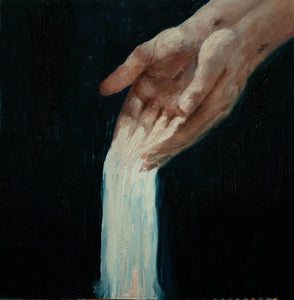 Peace is always offered through the Saviors hands.  Sometimes we resist accepting this gift, we want to hold onto our sorrows, snuggle up to our pain, indulge in our favorite sin.
This painting is to remind us that if we choose to let go of the darkness, the Savior is there ready to pour his purifying gift into our hearts.  He is the only way, there is no substitute, no amount of covering up, hiding from, or distraction, can mimic the peace that comes through the Savior's hands.  
He is there, He is always there, and always willing to offer change, light, and love.  
Available in 8x8 Canvas Giclee Print mounted on hard board, fully archival.  Ready to frame without glass. $39
Also available on 8x8 photo paper.   $11.50